INCATE and BIOASTER join forces to improve support to AMR innovators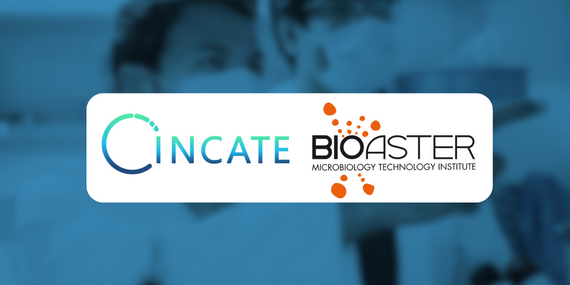 November 1st, 2023 – INCATE (the INCubator for Antibacterial Therapies in Europe) and BIOASTER, the French Microbiology Technology Research Institute, have announced this week the beginning of a new partnership that aims to improve the support to innovators to fight drug-resistant infections.
Antimicrobial resistance (AMR) is the ability of pathogens to prevent antibiotics from working against them and it was recently estimated by the Lancet to be attributable for 1.27million deaths in 2019 alone. This acute threat needs new antibiotics but the pipeline of antibiotic therapies is weak. There is an urgent need to expand the pipeline of new antimicrobial therapies.
"Since starting in 2021 INCATE has acted across Europe to support the development of new ventures in the fight against AMR ", said Douglas Häggström from Management Team of INCATE. "BIOASTER not only brings deep links within France but also expands the specific competences with which INCATE can help ventures. We welcome BIOASTER as an integral part of the INCATE team and we look forward to increasing our impact together."
Xavier Morge, CEO of BIOASTER, emphasized that "as a Technology Research Institute dedicated to fight against infectious disease, our mission is to provide partners with guidance, along with innovative scientific and technological solutions to advance the development of their antimicrobial candidates. We are convinced that joining forces with INCATE will contribute to providing new treatments adapted to unmet patient needs."
"The INCATE Board of Directors appreciates the impressive growing importance of INCATE. However, in order to make a serious positive impact on the development of the antibiotics pipeline, the geographical and thematic expansion of the incubator is now the next crucial development. By partnering with BIOASTER, INCATE is now taking a first step in this direction, enhancing INCATE's expertise and resources and, most importantly, expanding its reach of spotting innovative concepts. I can therefore only fully support this strategic move by INACTE," says board member Prof. A. Brakhage from Leibniz-HKI, one of the German founding organisations.
The main objective of this collaboration is to expand and improve the support emerging innovators in the field of AMR during their early stages. Through this partnership with BIOASTER, INCATE enhances its capabilities in offering guidance, fostering a community, and providing non-dilutive funding. This enables the development of compelling business proposals and the accumulation of the necessary evidence to attract potential investors.
The INCATE support model has proven value for early stage ventures and will continue to expand to new geographies and deepen our ties with existing and new partners. We look forward to supporting more innovators in their fight against drug-resistant bacterial infections.
About BIOASTER
Created in 2012, following the French initiative of Technology Research Institutes, BIOASTER is a not-for-profit foundation developing a unique technological and innovative model to support the latest challenges in microbiology & infectious diseases. BIOASTER uses and develops high value technological innovations that accelerate development of medical solutions for populations and personalized medicine.
The aim of BIOASTER is to bring together academic and industry and use its capacities and specific knowledge to develop and execute high impact collaborative projects requiring industry compatible innovative technologies.

Press contact for BIOASTER: olivier.charzat@bioaster.org | www.bioaster.org
About INCATE
INCATE is a not-for-profit partnership which brings together translational and basic research, industry, experienced entrepreneurs and investors from across Europe and beyond. The German Center for Infection Research (DZIF), the research association InfectControl in Germany, the Swiss National Centre of Competence in Research AntiResist, the University of Basel and the Leibniz-HKI are the academic founding members of INCATE with the University of Basel as virtual host. Together with the four industry partners Boehringer Ingelheim, Roche, Shionogi and MSD as well as other organizations, funders and investors, INCATE want to ensure that the pipeline of new antibiotics and diagnostics is filled and strengthened.